This morning is a busy one...I have to quickly get the required housework finished and then finish up a few last squares for my first quilt. This quilt is a nine-patch type quilt made from fat quarters that I found on clearance. I just have to figure out a pattern to arrange them in. So far, I have 48 blocks finished.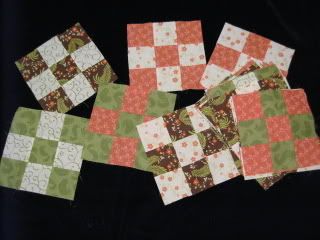 Then, I am off to Western PA where I will meet up with Elizabeth. Elizabeth bid on and won an industrial sewing machine that was listed on Ebay. The problem is... she wound up with two machines (like
that
is really a problem) . I am going to relieve her of one of the machines as it will be perfect for assembling felted wool items. This also gives me an opportunity to take a treadle machine that I have been holding for my friend Jess, from Indiana, and Elizabeth will then take the treadle to Jess in Indiana. Sewing machines are serious business for us gals....and we travel all over to find just the right ones!!